Trail mix is the ultimate sweet and salty snack. Every trail mix recipe is an endlessly customizable combination of chocolate, nuts, seeds, dried fruit, popcorn, pretzels and more. But what should you put in your homemade sweet and salty mix?
We've outlined the basics of what to include in your bag, as well as some delectable Hershey-inspired trail mix recipes that'll satisfy your tastebuds. Whether you're headed out for a hike, enjoying a camping trip or entertaining some friends at your kitchen island, a tasty trail mix recipe is the perfect in-between-meals treat.

What is Trail Mix?
Trail mix is a quick and easy snack that's known to give hikers energy on a trek. It's salty and sweet with protein- and fiber-packed dry foods, plus a little chocolate, of course! A bag of trail mix is a great companion for any outdoor activity, like mountain biking, kayaking, camping and more. It's perfect for sharing so it makes a great party mix, too.
Like many now-iconic recipes that started in a cookbook, the first trail mix recipe appeared in a camping guide more than 100 years ago. Going even further back, some historians credit the smart combination of nuts and dried fruit to Native Americans.

So what exactly should you put in your trail mix? While your homemade trail mix recipe will vary by your tastes and what you've got in the pantry, all trail mixes start with a few basic ingredients. And each has a good reason to be invited to the party!
Nuts – These small, crunchy bits are packed with protein. You can choose one kind or mix and match peanuts, almonds, cashews, macadamia nuts, pistachios, walnuts and more.
Seeds – Like nuts, seeds also contain protein. Your best options are sunflower seeds or pumpkin seeds (also known as pepitas).
Dried Fruit – Dried fruit provides a tang for your tastebuds, but it also contains fiber and vitamins. While raisins are the most popular trail mix fruit, you can try banana chips, apple chips, dried apricots, dried nectarines, dried cranberries, dried strawberries, dried raspberries and more.
Chocolate – Don't forget a few bits of chocolate for a quick boost of energy. When paired with salty, crunchy snacks, chocolate adds the perfect sweetness to your handful of trail mix. You can try bits as small as baking chips or as large as HERSHEY'S KISSES Chocolates or broken candy bars.

Easy Trail Mix Recipes with Hershey Candy
Making your own trail mix recipe lets you control the ratio of each ingredient. We didn't include any measurements, so it's up to you to add as much or as little of each mix-in as you'd like. Plus, the sky's the limit on your creativity! Here are a few Hershey-inspired trail mix ideas to get you started!
Classic Trail Mix with a Hershey Twist

This trail mix recipe includes all the classic crunchy bits plus the sweet addition of HERSHEY'S Premier White Creme Chips and decadent BROOKSIDE Dark Chocolate Candies. Instead of regular peanuts, we suggest swapping with chopped pieces of a PAYDAY Peanut and Caramel Bar. Then round out your mix with a flavor zing from DOT'S Pretzels.
Almonds
Cashews
PAYDAY Peanut and Caramel Candy Bar, chopped
Sunflower seeds
Raisins
BROOKSIDE Dark Chocolate Acai and Blueberry Candy
HERSHEY'S Premier White Creme Chips
DOT'S Homestyle Original Seasoned Pretzel Twists
REESE'S Lover's Peanut Butter Trail Mix
Bring a pop of creamy peanut butter flavor to every scoop of trail mix. From salty peanuts to milk chocolate and peanut butter REESE'S Mini Cups, it's a perfectly satisfying sweet and salty snack. This mix includes a dried, crunchy apple and banana chip combo. And to round out the saltiness and crunch, we've added SKINNY POP Popcorn and savory DOT'S Pretzels.
Almonds
Peanuts
Pumpkin seeds (pepitas)
Apple chips
Banana chips
REESE'S PIECES Candy
REESE'S Peanut Butter Chips
SKINNY POP Popcorn
DOT'S Homestyle Honey Mustard Seasoned Pretzel Twists
S'mores Trail Mix

Enjoy a S'more before you make camp with this on-the-go S'mores-themed trail mix. You guessed it — this mix features a HERSHEY'S Milk Chocolate Bar, mini marshmallows and graham cracker pieces. The dried strawberries and raspberries add a touch of tartness, while the nuts and SKINNY POP Popcorn bring a salty crunch.
Almonds
Macadamia nuts
Sunflower seeds
Dried strawberries
Dried raspberries
HERSHEY'S Milk Chocolate Bar, broken into pips
Mini marshmallows
Graham crackers, broken into bite-size pieces, but not crushed
SKINNY POP Popcorn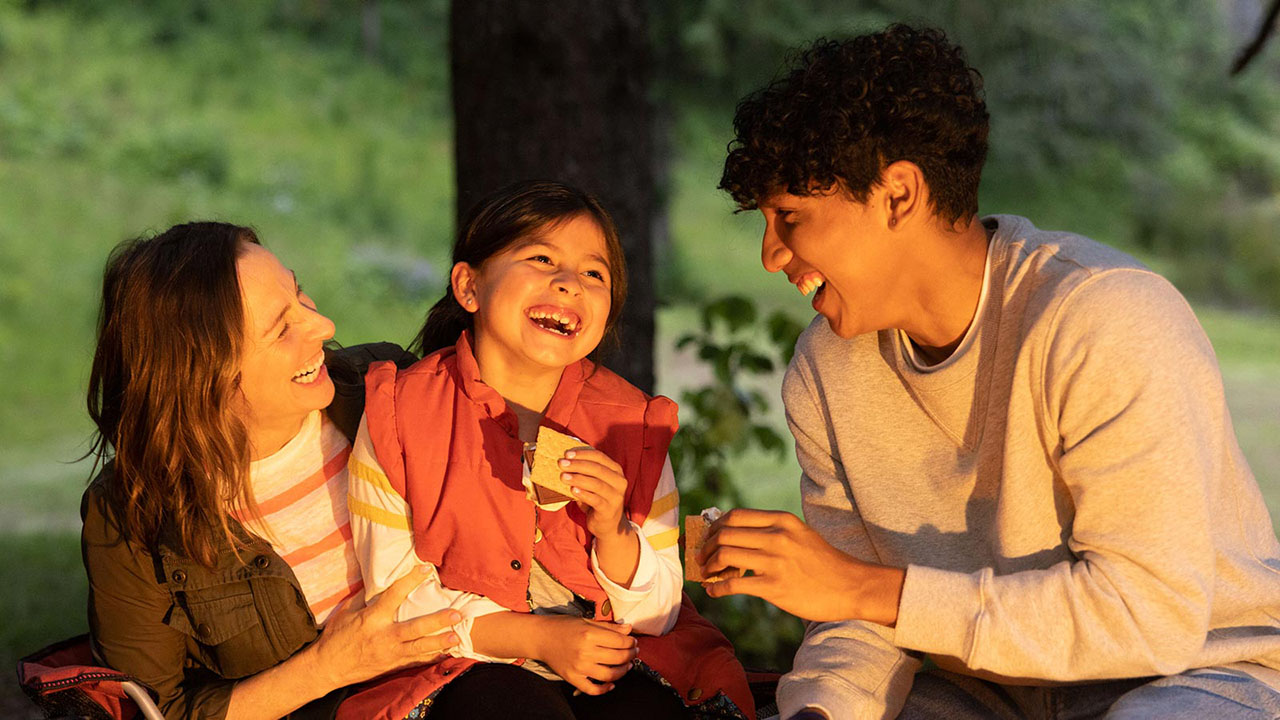 S'mores + Outdoors
S'mores are the perfect ending to a day of outdoor fun, like hitting the trails or picnicking with friends. Learn all the ways to make S'mores and discover new S'mores-inspired desserts.

Caramel Lover's Trail Mix

Love the smooth combination of caramel and chocolate? Take it with you anywhere you go with this caramel-inspired trail mix treat. Trade regular peanuts for the sweet, salty, satisfying crunch of PAYDAY Peanut and Caramel Candy Bar. Then finish your mix with not one, but two kinds of chocolate with caramel filling.
Walnuts
Macadamia nuts
PAYDAY Peanut and Caramel Candy Bar, chopped
Pumpkin seeds (pepitas)
Banana chips
Dried apricots
HERSHEY'S KISSES Milk Chocolate Filled with Caramel Candy, unwrapped
SKINNY POP Salted Caramel Popcorn Mini Cakes
Dark Chocolate Trail Mix
Take a walk on the dark side with this rich, decadent mix of salty and semi-sweet. barkTHINS Snacking Chocolate comes ready with crunchy pumpkin seeds, while BROOKSIDE Dark Chocolate Candies are packed with rich fruit flavor. Top off your mix with a pinch of coconut flakes and some crunchy SKINNY POP Popcorn Mini Cakes to complete this delectable day-hike-ready snack.

Almonds
Pistachios
Raisins
Dried cranberries
barkTHINS Dark Chocolate Pumpkin Seed & Sea Salt Snacking Chocolate, chopped
Coconut flakes
SKINNY POP Sea Salt Popcorn Mini Cakes

Reduced-Sugar Trail Mix

Hoping for a sweet pick-me-up on the trail without all the sugar? Hershey's here for you with this low-sugar trail mix featuring a few of our zero sugar candies.
But Is My Chocolate Going to Melt?
Depending on your location and the time of year, hikes can get hot, so you might be worried about your trail mix melting along the way. When prepping your backpack, store your trail mix in a small insulated water bottle to protect the chocolate and candy from melting before you can enjoy it! Bonus: It'll save your trail mix from getting squished in your pack.
Trail Mix FAQs
The freshness of your trail mix depends on the shelf life of your mix-ins. Most of the dry ingredients you'll use have a long shelf life (anywhere from three to 12 months). When making your own mix, take note of the expiration dates of your ingredients and plan to use up the mix within a month or two. Make sure to store your trail mix in a sealed container such as a jar or zip-top bag.

The best seeds for trail mix are pumpkin seeds (pepitas) and sunflower seeds. Other seeds you might have in your pantry, like chia, flax or sesame seeds, are too small for trail mix inclusion because they'd fall to the bottom! They're also too tiny to grab along with the other larger items in your mix.

The great thing about trail mix is that the basic ingredients (nuts, seeds, raisins, chocolate) are generally gluten free! You can omit any gluten additions from your version of our recipes or swap out items for your favorite gluten-free varieties.
Hershey Is Here for All Your Outdoor Fun