Croissant Cup Cheesecakes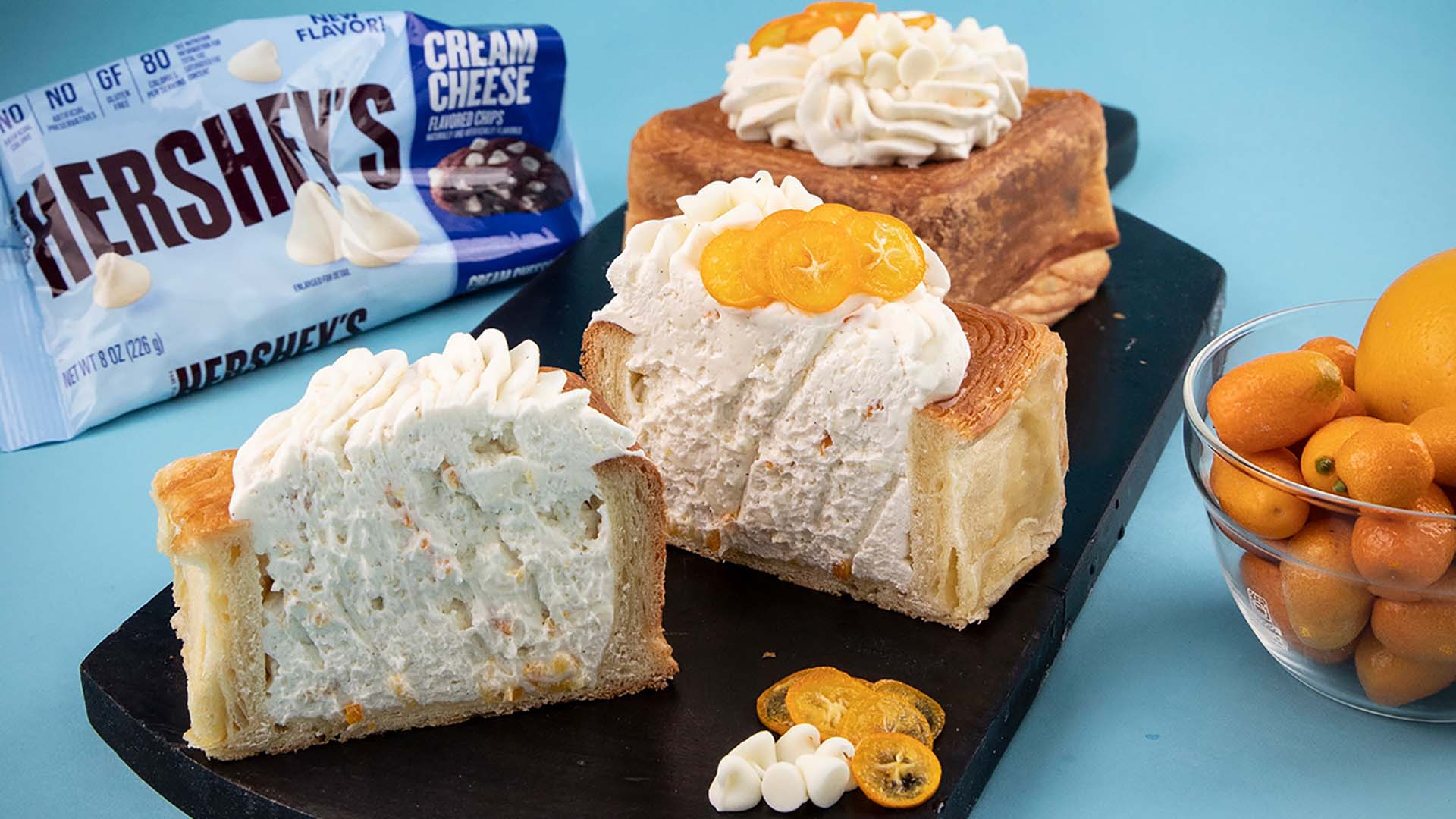 Details
Timing

Skill Level:

Expert
Flaky croissant, creamy lemon cheesecake filling and tangy kumquats make for a daringly decadent dessert. There's a reason these Croissant Cup Cheesecakes with Meyer lemon and candied kumquats are award-winningly good! This recipe submitted by Erin Hungsberg won the 2022 Hershey and Hallmark Channel's "Bake Your Way to the Big Screen" Baking Contest.

Make these Croissant Cup Cheesecakes to seriously impress your dinner party guests with the fun and unique flavors inside. Once you get a taste of this delightful and creamy dessert, you're bound to want even more. Check out all of our Cheesecake Recipes and make as many as your heart (and tastebuds) desires.
Ingredients & Directions
Prep Time

1 hour

COOK TIME

2 hours

Chill Time

4 hours
Ingredients
store-bought puff pastry dough

(can substitute with homemade croissant dough)

No-Bake Cheesecake Filling

heavy cream

or heavy whipping cream, cold

cream cheese

(8 oz each), softened to room temperature

creme fraiche

(can substitute sour cream)
Directions
Equipment Needed 

(2) 8" Cake Pans

Parchment Paper

Rolling Pin

(2) (2" high) Food Molds or Empty Cans

Heat-Proof Bowl

Saucepan

Hand and Stand Mixers
Mixing Bowl
Croissant Cups:
Line an 8-inch square cake pan with parchment paper. Spray 4 (2" high) food molds or empty cans with cooking spray.
Preheat oven to 390ºF on the convection bake setting.                      
Unwrap the dough and roll it into a square 10" wide and 1/4" thick.
Mark the dough at 2" increments and cut into 5 equal strips.
Stretch each strip, wrap around prepared cans and place in molds/cans in the prepared pan.
Use the last strip to roll and stretch over the tops of molds. (This will be the bottom of the croissants.)
Invert another 8-inch cake pan, cover your cups and allow to proof for 2 hours in a draft-free space.
After the first hour, cover the croissants with a parchment square and weight down the croissants using the bottom of the other 8-inch cake pan.
Bake for 5 minutes, with the croissants covered and weighted down.
Reduce the heat to 330ºF convection for an additional 20 minutes, or until deeply golden and the internal temperature reaches 200ºF.
Candied Kumquats:
Slice kumquats very thin and remove any seeds. Place in a heat-safe bowl.
In a small saucepan, bring the water and sugar to a boil, stirring to dissolve the sugar. Pour over the kumquats.
Let sit at room temperature to cool. Store in the refrigerator for up to a week.
No Bake Cheesecake Filling:
Refrigerate the stand mixer bowl for an hour.
Using a stand mixer fitted with a whisk attachment, whip the cold cream on high speed until stiff peaks appear, about 2 minutes.
Using a hand mixer, in a separate bowl, beat the cream cheese and granulated sugar on medium speed for 2 minutes. Add the powdered sugar, creme fraiche, Meyer lemon juice and zest, and vanilla bean paste. Beat for an additional 2 minutes on medium-high speed until smooth. Stir in the kumquats, reserving a few for garnish, and HERSHEY'S Cream Cheese Flavored Chips.
Fold the whipped cream into the cheesecake filling until combined.
Spread filling into the prepared croissant cups. Use a spatula to smooth down the top or add a decorative piping tip. Cover and refrigerate for at least 4 hours.
Garnish cheesecake with reserved candied kumquats and additional cream cheese chips.
Convection vs Conventional Oven: If you don't have a convection oven, increase your oven temperature by 25 degrees. Your dessert will need to bake longer, so increase your bake time by 25 percent and keep an eye on it.