There are so many fun ways to get creative with food for Halloween! And you don't even have to be a whiz in the kitchen or spend tons of time to whip up something special. Read on for three totally doable Halloween recipes guaranteed to make your favorite people happy … whether it's a surprise after-school treat for the kids or a showstopper dish for that upcoming Halloween party.
Chocolate Googly Eyes
From baked goods to candy apples to cakes, googly eyes instantly bring any Halloween treat to life! And you can make your own tasty googly eyes using only TWO ingredients: white creme and milk chocolate.

Start by melting HERSHEY'S Premier White Creme Chips as directed on the bag, then pipe white circles onto wax paper. These circles will create the "whites" of the eyes. Feel free to create a variety of shapes and sizes for added interest!

While the white creme is still wet, place HERSHEY'S Milk Chocolate Chips — pointy side down — into each circle to create pupils for the eyes. Pop them in the fridge for 20 minutes to let the chocolate set, then use them to create all sorts of fun, googly-eyed treats. A few favorite ideas: Place them all over a chocolate-frosted cake to make an "Eerie Eyeball Cake" or pair them with gummy fangs to make silly and adorable "Vampire Donuts."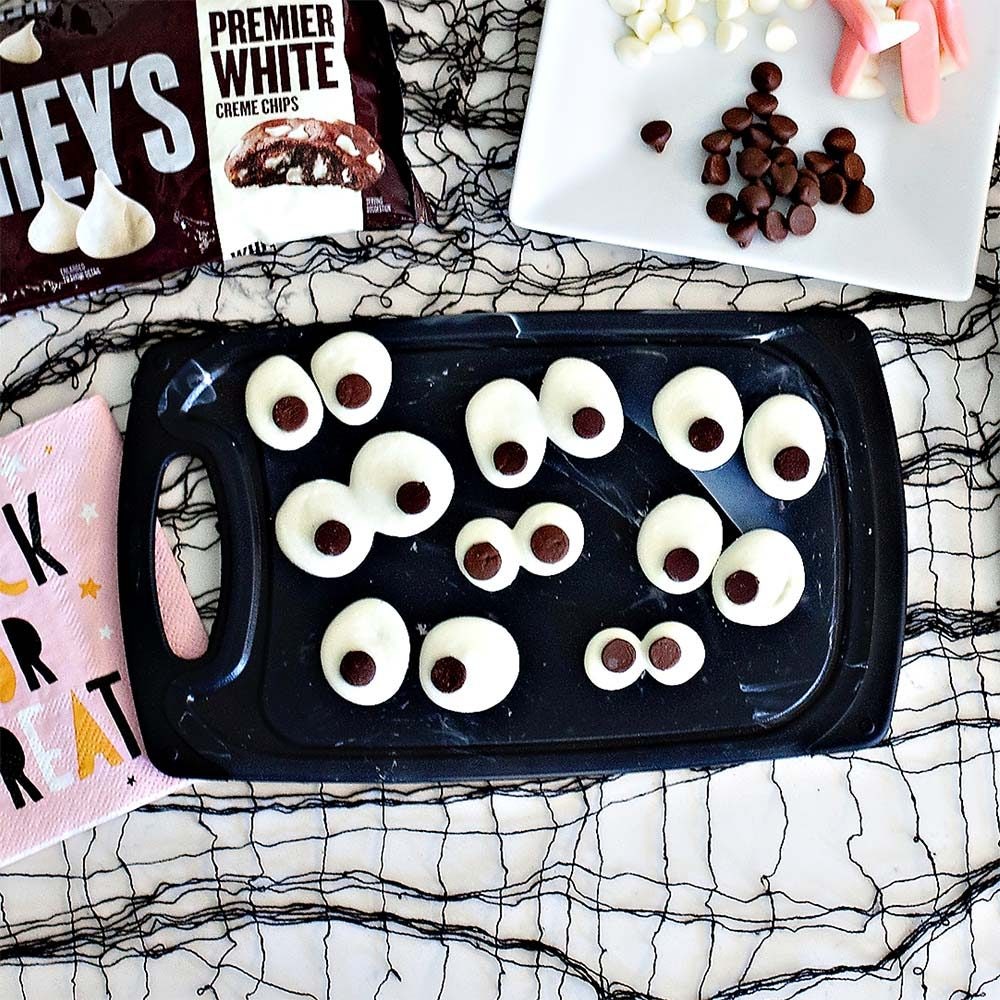 Halloween Chocolate-Covered Strawberries
These chocolate covered strawberries are proof that simple can be super cute! You don't need any fancy ingredients or art skills to create these darling "Boo-Berries." What you will need is HERSHEY'S Premier White Creme Chips, HERSHEY'S Semi-Sweet or SPECIAL DARK Chocolate Chips, and piping bags (or a zip-top bag with the corner snipped off).

Melt the chips in separate microwave-safe bowls, then spoon about 1/3 cup of each into two separate piping bags. Cover the strawberries in melted chocolate or creme one at a time by holding onto the stem, then dipping and turning the berry until it's evenly coated. Gently shake the berry over the bowl to remove excess chocolate or creme, then place it on a sheet pan or tray lined with wax paper. Once all of your berries have been dipped, chill them in the fridge for 15 minutes.

Now you're ready to add the *ghostly* decorations! Reheat the piping bags as needed. For the dark chocolate berries, pipe a circle of white creme onto the strawberry, then use a toothpick to gently pull the bottom of the circle down into a swirly ghost tail shape. Use chocolate to pipe on the eyes and mouth. For the white creme berries, pipe a pair of chocolate eyes and a mouth directly onto the center of the berry. You can also add extra decorations like sprinkles and nonpareils in Halloween colors for added detail.

Return finished berries to the fridge until ready to serve.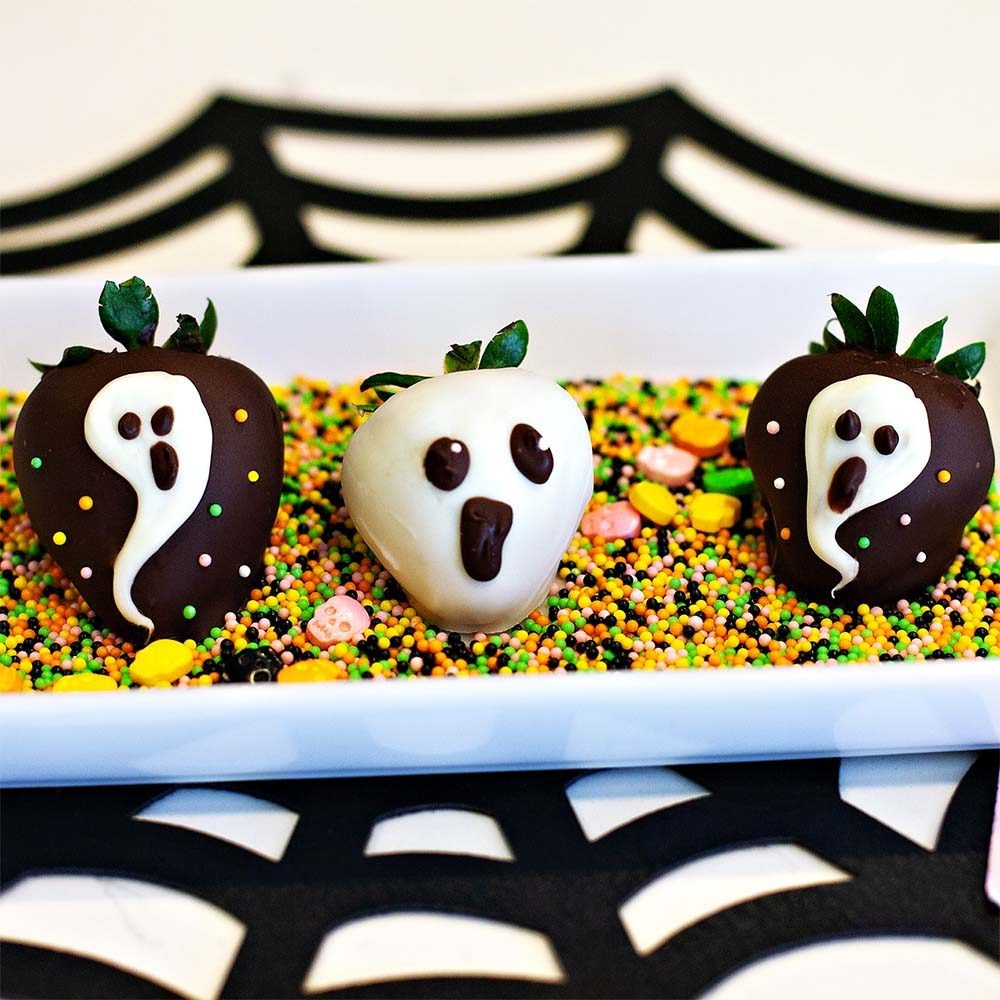 Witch Cauldron Charcuterie

Cast a creative spell on your Halloween charcuterie board with this festive witch-inspired design! It's so much fun to look at and guaranteed to be the hit of your Halloween party spread.

The *magic ingredient* is a printable witch cauldron template that you can use as a guide for building the chocolate cauldron. Print the template, place it under wax paper, and trace the cauldron outline on top. Next, cut the cauldron shape out of the wax paper and place it toward the bottom of your charcuterie tray. (If you don't have a printer you can also freehand draw a cauldron shape onto wax paper.)

This chocolate witch cauldron is built from ROLO® Dark Salted Caramel in Rich Dark Chocolate Candy, KIT KAT® Minis Milk Chocolate Candy, chocolate cake slices (bottom layer) and mini chocolate donuts. It's surrounded by HERSHEY'S COOKIES 'N' CREME Drizzled Popcorn to create a nice color contrast and help the cauldron shape stand out.

Fill the space above the cauldron with various sweet and savory snacks like dark fruits, pretzels, cured meats and cheese. Place three small round ramekins to act as "cauldron bubbles" and fill them with clever Halloween-inspired treats like "frog eyes" (pimiento-stuffed green olives) and REESE'S Miniatures White Creme Peanut Butter Cups embellished with icing eyes. Add playful "witch fingers" made from green KIT KAT® Witch's Brew Candy Bars, chocolate frosting and sliced almonds as the fingernails.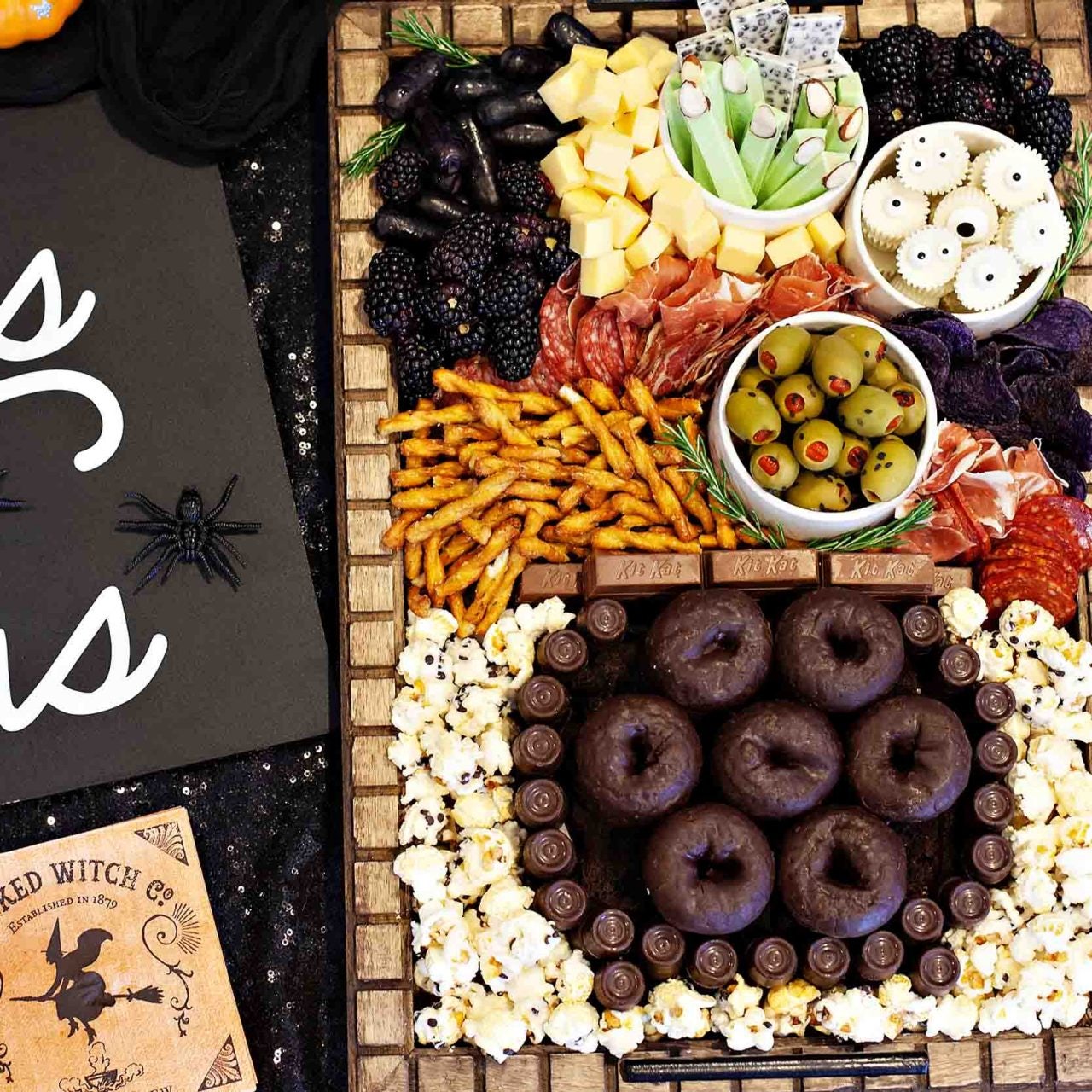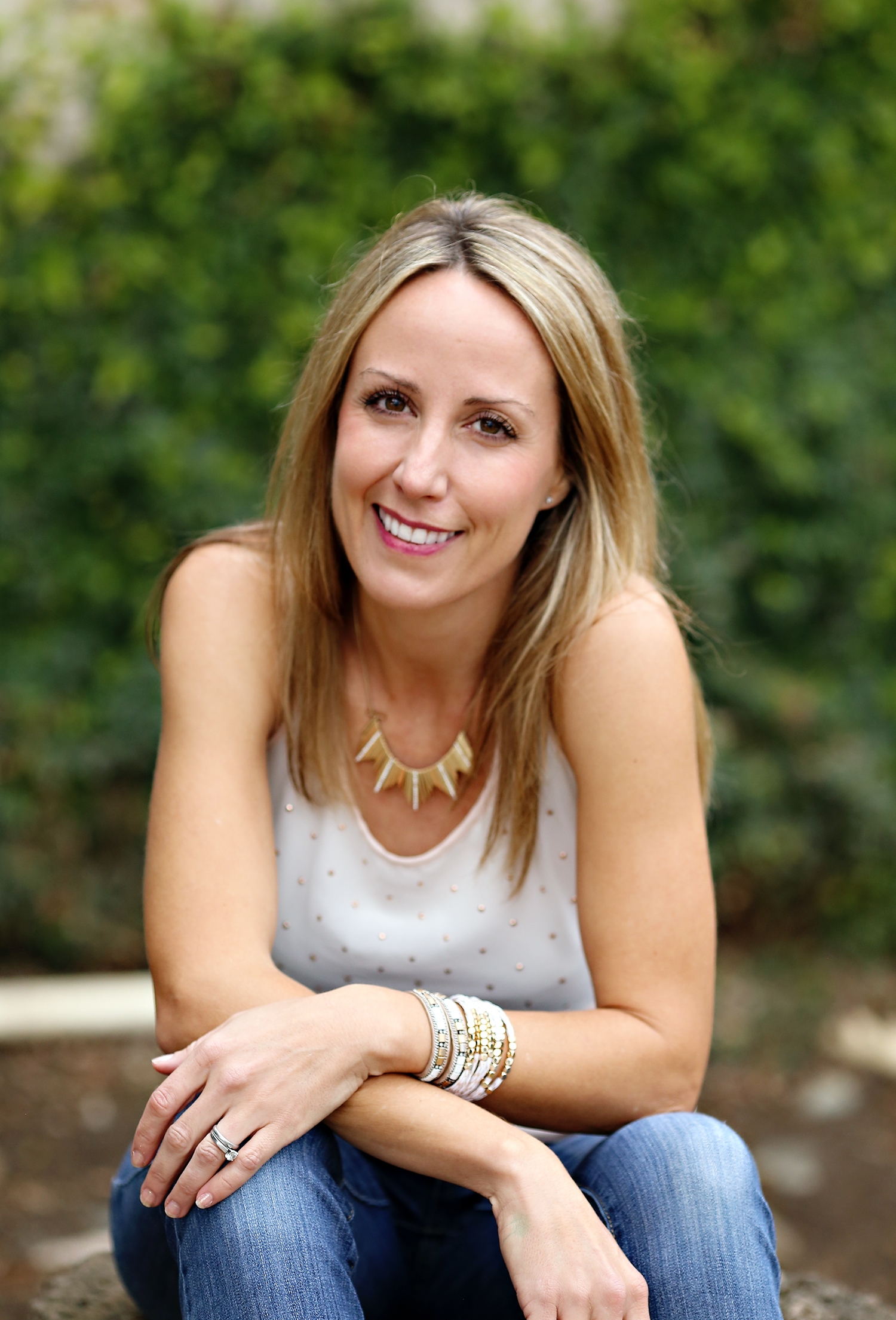 Jennifer Sbranti
Graphic Designer and Creative Events Stylist
Jennifer Sbranti
Graphic Designer and Creative Events Stylist
Jennifer Sbranti is a mom of 2 and the founder of Hostess with the Mostess (HWTM), a creative lifestyle brand established in 2006. Her graphic design work and party ideas have been featured in media outlets such as Good Morning America, The Today Show, Real Simple, and more. Through HWTM, Sbranti shares inspiring ways to *bring the fun* to special occasions and everyday moments.