Pumpkins, check. Friendly ghosts, check. Fall candy dish filled with your favorite Hershey's Halloween candy, double check! Halloween candy is the family's favorite part of the season, and we've got a few ways you can turn your Halloween candy dish into a bewitching centerpiece. Whether you're arranging the candy creatively or setting out an impressive spread of sweets, these DIY Halloween candy bowl ideas add just the right amount of whimsy and sweetly scary fun to invite your Halloween party guests to grab a treat.

Start with a Bowl: Ideas for a DIY Candy Dish
Choosing your container is the first step to making a frightfully fun candy dish. Your creativity has no limits, and now is the time to envision what you want your display to look like! If you've got a sturdy Halloween candy bowl already, we offer some new ideas to elevate its eerie appeal. Whatever you pick, it's sure to be boo-tiful!
Pick Your Bowl

A round dish is always a solid choice, but a rectangular or square tray allows some additional creative freedom. Halloween shapes like ghosts, pumpkins, bats and coffins give your project a hauntingly good start. Whatever your aesthetic is, look for a bowl that isn't too deep so you have more surface area to arrange your candy.
Choose the Right Colors
If you've got a white ceramic bowl with the ideal depth and shape for your display, you can spraypaint it black, orange, green or purple to add to the Halloween feel of your decorations. Or leave it white and lean into a ghost theme!
Give It Some Height
Levitate your treats above the countertop by adding a little height to your display. You can support your candy tray with candlesticks or hot glue two bowls together, bottom to bottom, for easy elevation.
Include a Sweet Surprise
Candy dish getting low on sweets? Customize your candy tray with a smiling pumpkin or a message: "No More Candy? BOOOO!"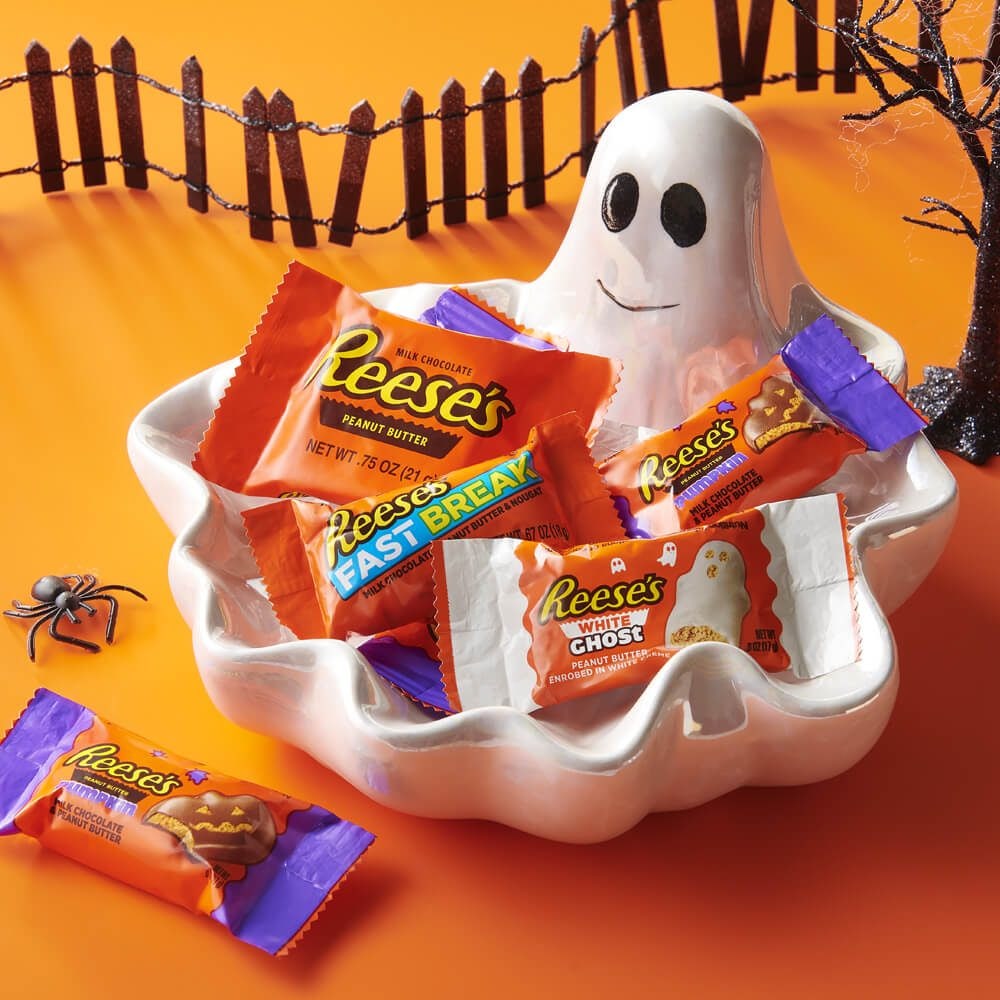 Make It 3D
Overflow the fun to the outside of the bowl to make a complete creation. You can add plastic skeleton hands to the outside to make it appear like they're holding the dish or one haunted hand reaching inside. Glue eight spine-tingling spider legs around the outside and cross your fingers that your dish doesn't creep away at night! Going with a witch theme? Add a wire handle to any bowl to transform it into a bubbling cauldron of candy.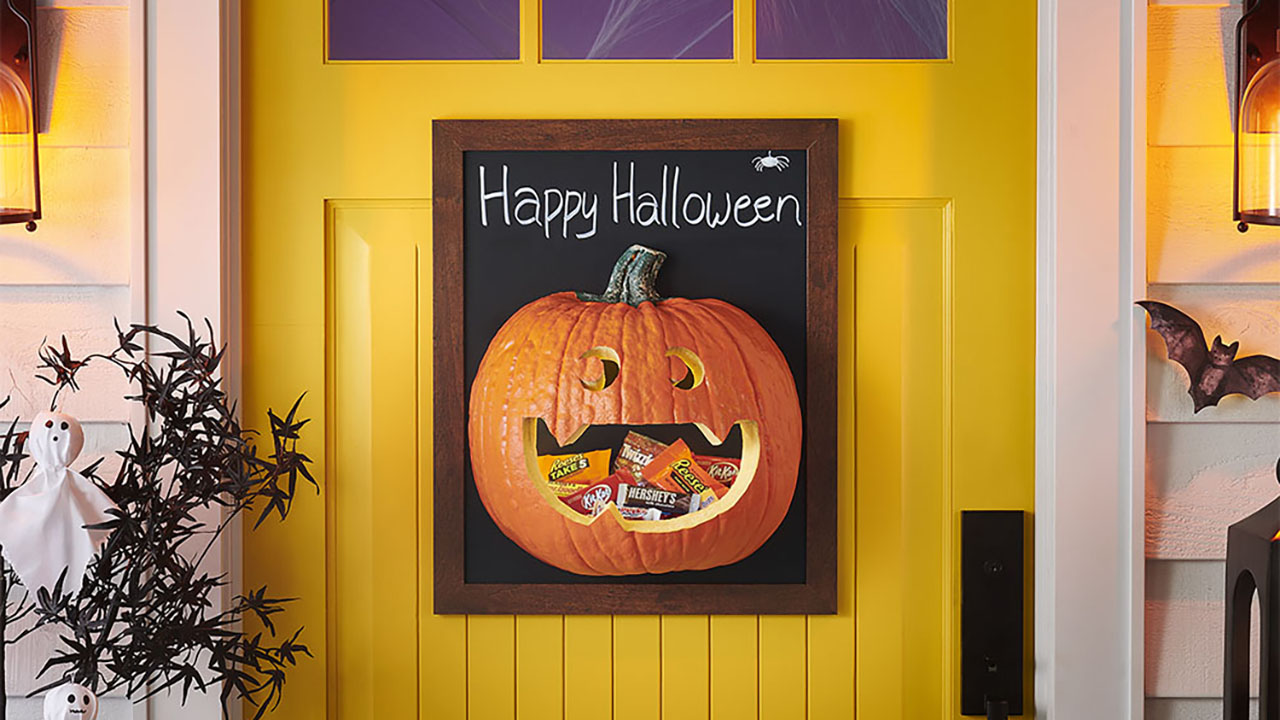 Halloween Candy Door Hanger
Welcome guests to treat town with this DIY Halloween candy door display sure to be a sweet surprise!
Arrange the Candy: How to Style a Candy Dish
You've got your bewitching bowl or terrifying tray. Now it's time to fill it with an alluring array of Hershey's Halloween candy favorites using the brightly colored wrappers as inspiration!
Pick a Pumpkin
You can't help but smile when you see your candy smiling right back at you! This Pumpkin Candy Bowl uses a classic round bowl and creative use of colored wrappers to make a jack-o-lantern face. An assortment of REESE'S Halloween Candy is a must but fill in the eyes and mouth with your family's favorite tiny treats.
Conjure a Witch's Hat
Arrange KIT KAT® Witch's Brew Candy Bars in a classic pointy hat design for a well-rounded witch candy dish theme!
Shape a Skeleton
If you've chosen a well-sized rectangular tray, arrange KIT KAT® Breaking Bones Candy Bars into a skeleton shape using the candy bars as bones. Form the head using HERSHEY'S KISSES Candies, ideal for creating just about any shape!
Create a Candy Corn
Make a triangular candy corn shape using REESE'S Halloween Milk Chocolate Miniatures Peanut Butter Cups with an assortment of orange, black and purple foils.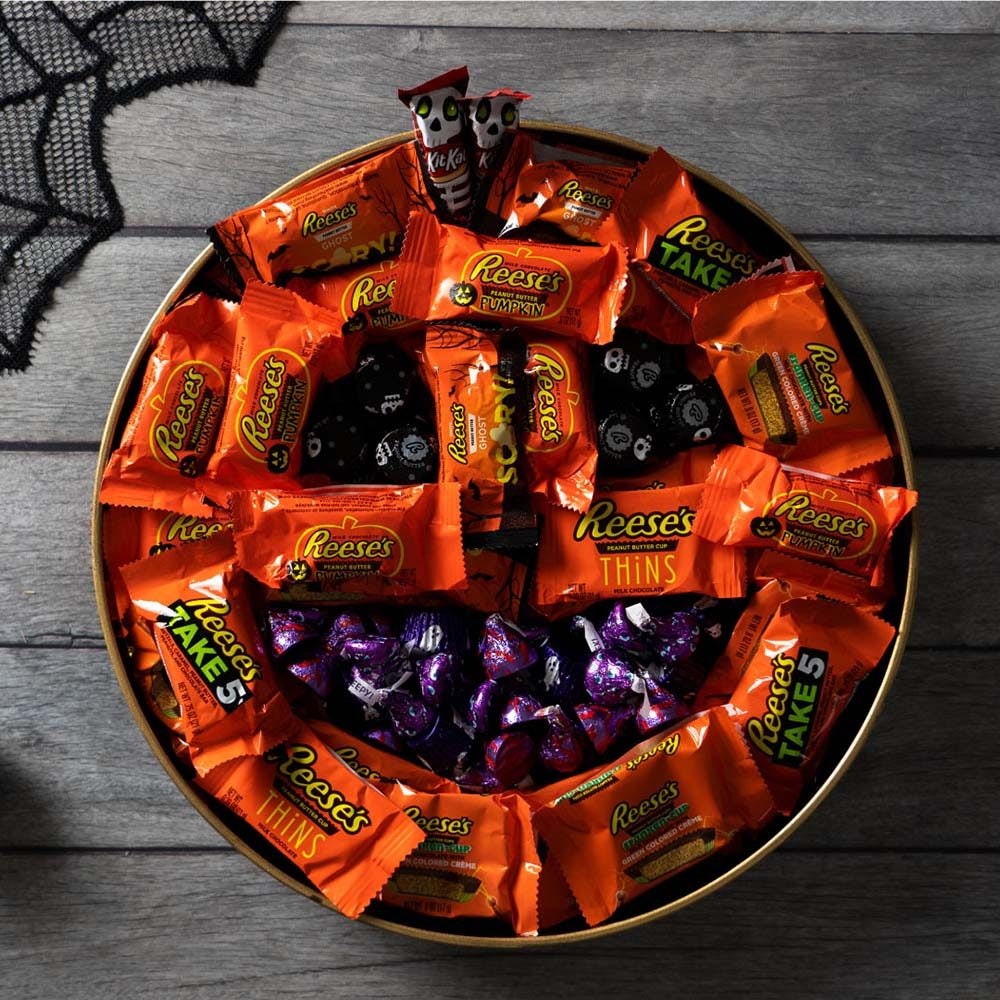 Build a Haunted House
If you're someone who loves making gingerbread houses during the holidays or a kid at heart who likes building blocks, try your hand at making a 3D Halloween Candy display! KIT KAT® Candy Bars, Hershey Halloween Miniatures and snack size bars like HERSHEY'S COOKIES 'N' CREME Fangs are stackable and would make a tasty, terrifying candy haunted house! Make a square structure, secure the candy with tape and add a black cardstock roof!
Take It Up a Notch: Make a Halloween Party Candy Tray
We got into the Halloween spirit and created this combination candy dish, dessert display and Halloween candy charcuterie board for the ultimate candy dish inspiration. This creation started with a coffin-shaped container, but you can use our ideas to make your own, like a cemetery scene or a pumpkin patch. There's no wrong way to assemble an assortment of Halloween candy, shareable Halloween desserts and salty snacks, so let your imagination howl at the moon and run wild!
Bake Grab-and-Go Halloween Party Desserts
Party dessert tables are all about the treats that are single-portioned and easy to pick up and enjoy, like cupcakes and cookies. Ensure everyone has a hauntingly good time with Pumpkin Patch Brownie Cupcakes, with your choice of icing color and REESE'S Peanut Butter Pumpkin toppers decorated with googly eyes and squiggly royal icing. Offer a selection of Halloween shapes or change up the flavors with the on-theme REESE'S White Creme Peanut Butter Ghosts!
Arrange the Candy
You might have used candy to create your treats, but Hershey Halloween candy is so scary good that you'll want to include even more. The key is to include both wrapped and unwrapped candy. Small bite-size treats like MILK DUDS Candy and WHOPPERS Malted Milk Balls make the perfect pop-able sweets. You can also leverage seasonal shapes, like YORK Peppermint Pattie Pumpkins, for a clever candy creation. For your wrapped candy additions, the choice is yours, and the only frightening part is deciding "witch" ones to pick!
Add Salty Snacks
Balance your spellbinding sweets with a selection of salty snacks like crunchy popcorn, flavorful baked cheese puffs or pretzel sticks.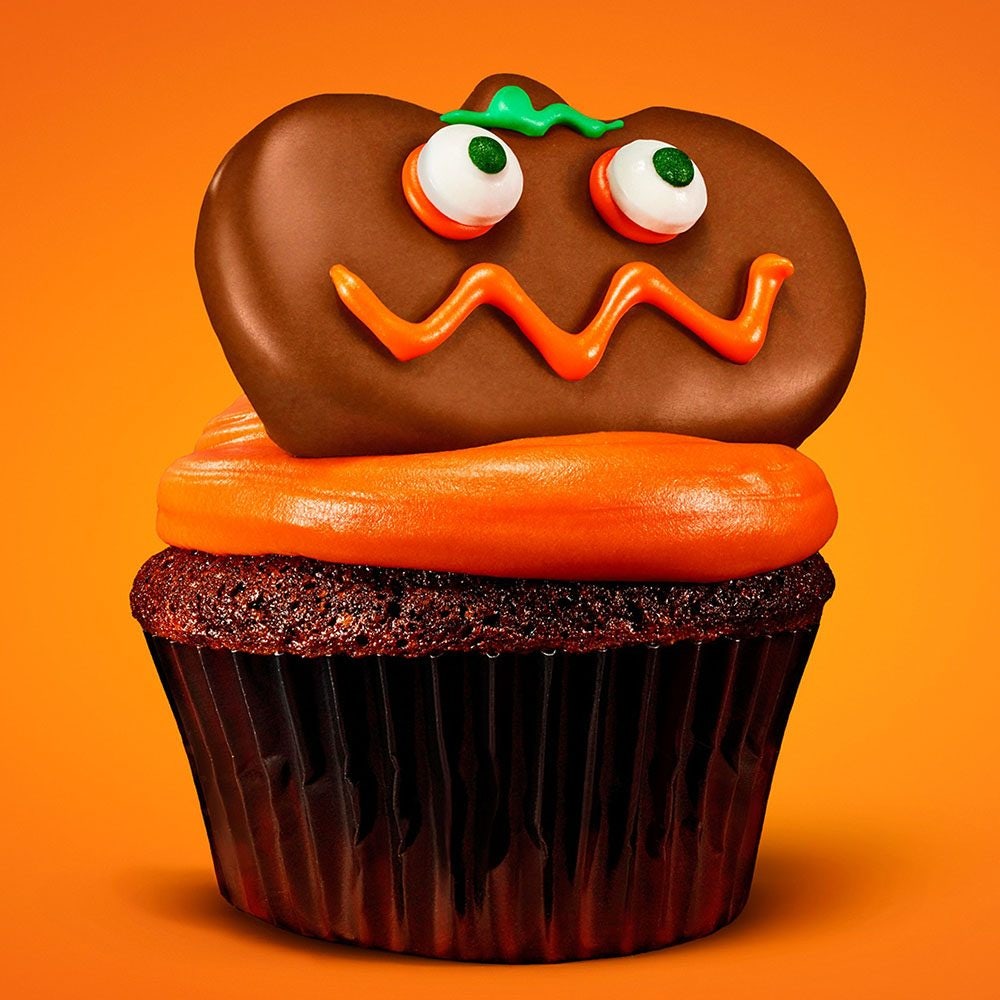 Incorporate Fresh Options
Give your guests something sweet and juicy to enjoy alongside the crunchy options. Peeled tangerines make perfect little pumpkins topped with a small piece of celery as the stem. Blueberries and grapes are great, but they're also eyeball-shaped for an eerie addition to your tray. Elevate classic chocolate covered strawberries with Halloween-colored creme or stick on a few googly eyes!
Add the Finishing Touches
Once you've got your treats tucked in all the right places, it's time to add a final touch of wicked whimsy! Create these sweetly scary candy trees made with TWIZZLERS Twists Black Licorice Candy or line the edges to construct a fence made with JOLLY RANCHER Lollipops. Make mini-coffins using stackable KIT KAT® Candy Bars, fill them with HERSHEY'S KISSES and add a gravestone with an epitaph: "Here lies Lay Z. Bones."
Halloween Candy Tray FAQs
The treats are sweet all on their own, but you can make your candy display even more inviting with easy arrangements and creative containers. Make a shape using your colored candy wrappers as inspiration, forming a smiling jack-o'-lantern or candy corn. When it comes to the candy bowl or tray itself, find a container that's wide and shallow to give you more surface area to decorate. Add 3D elements like skeleton hands and spider legs, then place it on a cute Halloween placemat.

There are plenty of delicious candy tray options alongside your terrifyingly tasty treats. Include some grab-and-go tangerines or freshly picked apples decorated with googly eye stickers. Pre-packaged salty snacks like pretzels and popcorn are light, crunchy options that balance out the sweet candy.

If you're using wrapped Hershey Halloween candy to create an eerie, inviting display, you can make your masterpiece as soon as you bring the candy home from the store! If you're assembling a boo-tiful display for a Halloween party that includes homemade desserts and fresh fruit, you'll want to put your tray together an hour or two before the party guests float in.

Collected a hair-raising amount of Halloween candy this year? You can use the candy to make a selection of shareable fall desserts like Crunchy REESE'S PIECES Bars, REESE'S Peanut Butter Temptations or Chocolate Bar Surprise Cookies.
Leave Room on Your Broom for More Halloween Ideas