Dive into summer fun and throw the best backyard parties on the block. Get inspired by these sweet ideas and be prepared for bad weather with the best backup plans.
Red, White & Blue BBQ Party
Summertime is the season for a quintessential backyard BBQ. Celebrate summer Americana in style by throwing a spectacular red, white and blue backyard party.
What You'll Need
Make your Memorial Day, July 4th and Labor Day holidays festive with all the best red, white and blue decor and a yummy grilled food menu. Offer your party-goers all the classics: burgers, hot dogs, chicken and meatless alternatives, as well as sides like mac and cheese, veggies and, of course, desserts! These Double Peanut Butter and Milk Chocolate Cookies are sure to be a crowd-pleaser, or go nut-free with HERSHEY'S Classic Milk Chocolate Chip Cookies.

Once the sun goes down, give out these Easy Glow Stick Party Favors to light up the night and enjoy some tasty treats while watching a sweet fireworks show.
Bad Weather Backup Plan
If the forecast calls for a few passing showers, set up a couple tents to keep the party going outside and under cover. Or, bring your star-spangled celebration inside and cook on the stovetop or make an easy dish in the slow cooker.

Ice Cream Social
What's better than enjoying a big bowl of ice cream with loved ones? Throw an ice cream party in your backyard and make some super sweet memories this summer.

What You'll Need
For an ice cream social, you'll definitely need a lot of ice cream! Provide guests with an array of ice cream flavors, scoops, utensils and bowls for this DIY ice cream sundae bar. Ask each guest to bring a different topping to have a wide variety that everyone can share.

You can also offer guests some yummy baked goods that they can enjoy with their ice cream. Make these Deep Dish Brownies that can be crumbled on top of ice cream, or make these Peanut Butter Stuffed Sugar Cookies for ice cream cookie sandwiches

Bad Weather Backup Plan
Ice cream is a weather-proof treat because you can always enjoy it indoors. A perk to this backup plan is that keeping your ice cream inside will help it stay colder for longer!

Yard Game Tournament
Got some competitive friends and family? Then you've got the perfect excuse to throw a backyard game competition!
What You'll Need
To make this event one for the ages, you're going to need a lot of games! Grab your corn hole boards, set up a ring toss, line up the bocce balls, set out croquet and more. You can even add classic games like volleyball, basketball and soccer to your competition. Once you've got your games in order, set up teams and make some awesome trophies and awards for all the winners at the end.

A great prize that everyone can enjoy is these All-Star Team Cupcakes! Customize them with numbers or colors, or even make them look like each of your guests to really ramp up the team spirit.
Bad Weather Backup Plan
If there's bad weather coming your way, don't worry. There are lots of games that you and your teams can play indoors! Set up card games, darts, board games and more to keep the competition hot.
Pool Party
Splash into summer with an epic pool party! Enjoy some fun in the sun while you lounge by the water with all your friends and family

Bad Weather Backup Plan
There's no pool inside, but you can still enjoy each other's company! Play games and munch on yummy snacks while you wait for the rain to stop.

Outdoor Movie Night

Everybody loves a movie night! Make the experience even better by inviting friends and family to watch during warm summer nights.

What You'll Need
Start planning your outdoor movie night by positioning the screen, either projecting it on a wall or screen or bringing a TV outside. Then gather chairs, blankets and pillows on the lawn for a cozy night of fun.

Another important element of movie watching is snacks, of course! Give your guests some satisfying options, such as these sweet and salty snack tray ideas. These trays are perfect for customizing so everyone can get exactly what they want. For more fun inspiration like snack essentials and games to play at intermission, check out 4 Family Movie Night Ideas and Movie Nights.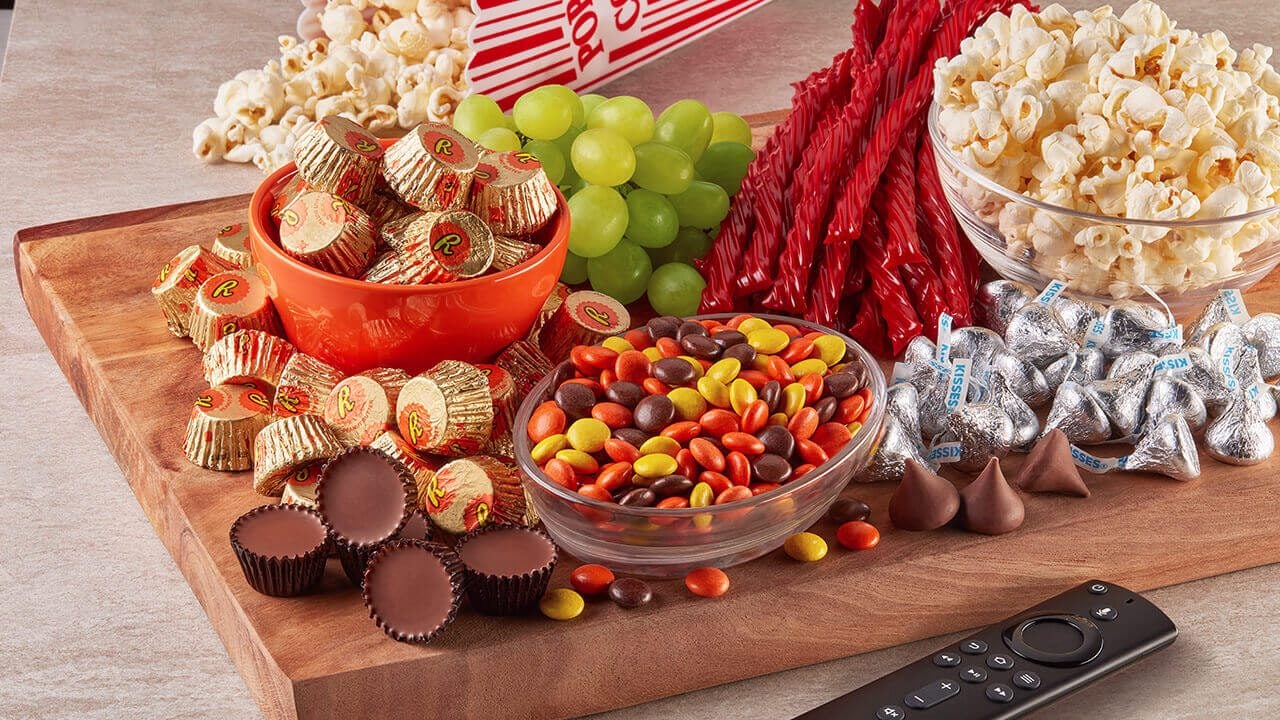 Bad Weather Backup Plan
Rainy day have you flustered over film night? There's an easy fix! Bring the fun indoors and lounge in the living room or find a blank wall to project the movie inside.

S'mores Night
Summer just isn't complete without a night dedicated to S'mores! Gather your friends and family around the campfire to make the classic ooey, gooey treats.
What You'll Need
In order to have the best S'mores night ever, you'll need to stock up on the essentials. Graham crackers, marshmallows and HERSHEY'S Milk Chocolate Bars are all you'll need to make the delicious dessert, but don't be afraid to get creative by adding other ingredients to your S'mores. Get some yummy inspiration for extra add-ins, like REESE'S Peanut Butter Cups and fresh fruit, from our S'mores Night blog!

To make the night even sweeter, make this Sweet S'mores Snack Mix for friends and family to snack on while they wait for the sun to set.
Bad Weather Backup Plan
S'mores night must go on! We've got you covered with all the best recipes for making S'mores indoors. This How to Make S'mores at Home page lists the most convenient ways to make S'mores in the air fryer, microwave, oven and stovetop.
Stargazing Party

Have a fun night under the stars with an out-of-this-world stargazing party! Make amazing memories with friends and family during the galaxy-inspired festivities.

What You'll Need
For a night that's focused on looking at the stars, it's best to keep your decor simple. Keep the backyard warm and inviting with some constellation-themed decorations, but make sure you keep the lights dim so you can still see the stars. Set out lots of blankets, lawn chairs and pillows for guests to lie back and gaze at the galaxy.

Every party needs a plethora of snacks, so keep the food flowing with a Moon & Stars Charcuterie Board from our backyard stargazing party ideas. It's a perfect, on-theme option that will keep the crowd pleased all night long.

Bad Weather Backup Plan
Even just a few clouds can ruin a star-gazing party, so it's important to have a backup plan in place! Set up star- and space-themed activities like space bingo, and pin the astronaut on the moon or punch holes in constellation cards that you can shine onto the ceiling.

Backyard Camping Party
Camp out under the night sky when you throw an awesome camping party. Include all the backyard camping essentials and enjoy the great outdoors with friends and family.

What You'll Need
Make camping at home an occasion by turning it into a party! Start up the campfire and cook everything from hot dogs to S'mores over it, set up tents for guests to sleep in, and put out all the blankets and lawn chairs you'll need for a fun and relaxing night.

Start the festivities by sending out camping party invitations that will get everyone excited for the day. Once your guests arrive, give them tasty, themed snacks like sweet & salty trail mix and S'mores Cookies that they can munch on throughout the party.

Bad Weather Backup Plan
If the weather looks questionable for an outdoor bash, set up those tents inside and cook up these Indoor S'mores to keep the camping vibes going.

Tips for Hosting Your Backyard Party

We've got some backyard party tips and tricks that can be useful no matter the theme! Make sure you've got sunscreen and bug spray on hand since you'll be outdoors. If it's an especially buggy day or the heat is high, keep all the food inside instead.

Even if it's not raining, tents and umbrellas are a welcome party addition. They'll keep your guests more comfortable and out of the sun. If it's a particularly windy day, have weights or clips in place to secure tablecloths and decor from taking flight. Last but not least, set the mood with music and keep the fun flowing all day long.

There are lots of ways to enjoy your yard this season, so take these eight backyard party ideas and make sweet summertime memories with loved ones

More Sweet Summer Recipes